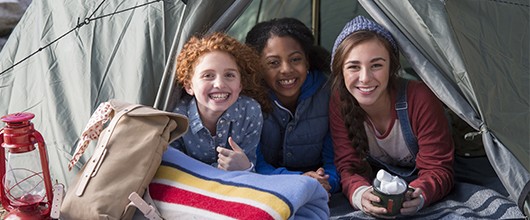 Camp

Discover the Fun from Archery to Zip line


There is no place like Girl Scout Camp! It is a heart-thumping, jaw-dropping, bellyache-laughing world for girls. It is a place where unforgettable memories and forever friends are made.
We have hundreds of acres with thousands of possibilities for girls to unearth something amazing about themselves and discover the world around them. The hardest part is picking which adventure first!
Be Daring. Be Bold. Be adventurous!
 
Take a walk on the wild side with our Adventure Courses. See Camp Archbald, Camp Small Valley and Camp Echo Trail for more information.
Rent Our Camp
 
Create a one-of-a-kind experience by renting one of our facilities.
Whether you're a company looking to boost up teamwork skills, a family looking for a reunion spot, a soon-to-be married couple, or even a troop of Girl Scouts looking for the next adventure, our seven camps offer unique possibilities to make your event a huge success.
Want to rent a camp, but don't have all the fun equipment? We've got you covered. Click for more information.