.

From Cookie Cupboard Lists to Girl Scout Cookie Handsbooks it is all right at your fingertips. Don't miss out our on Cookie Volunteer Resource page which has everything you need to help your Girl Scouts run a successful Cookie Booth biz!
Continue >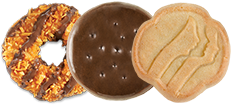 Every box purchased helps open up amazing opportunities for girls from earning skill-based badges to funding impactful community service projects! Girl Scout Cookie Program is the most delicious way to invest in the community. Find your cookies today today to support a local Girl Scout Troop!
Continue >
They grow up so quickly! Slow time down for a bit and enjoy our Family camp for an all-inclusive, action packed 3day/2night stay at camp in your family's own private unit! Share the magical experience of camp with the whole family and create memories that last a lifetime! Get ready to relax, laugh and try new and exciting games and activities! Learn more!
Continue >