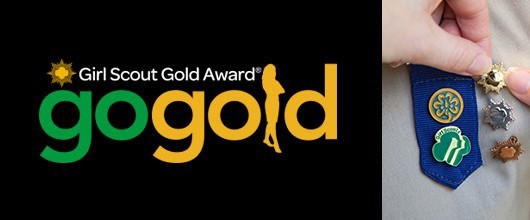 Gold Award
The Girl Scout Gold Award is the highest award a Girl Scout can earn. Once achieved, it shows colleges, employers, and your community that you're out there changing the world.


Watch our Gold Award Webinar!  The Gold Award webinar is a resource for girls and families looking to start their Gold Award journey. It is not required that girls watch the webinar prior to submitting their Gold Award Project Proposal.

Submit Proposal: Proposals may only be submitted through the GoGold online portal. GSHPA must approve your project plan before you begin actively working on it. No final reports will be approved without a council-approved project plan. 

After your proposal is reviewed, a staff member will reach out to you discuss your proposal by phone. Further details will be provided prior to the phone call. 
Empowering today's girls to become tomorrow's leaders.

Did you know? Gold Award Girl Scouts are eligible for numerous institutional scholarships, private scholarships, and awards. Visit the GSUSA website for a complete list of scholarships and awards. Reach out to college and university admissions departments directly for more information and to apply.
You can pursue your Girl Scout Gold Award if:
 

You're in high school (ninth through twelfth grade, or equivalent) 
 

You're registered as a Girl Scout Senior or Girl Scout Ambassador
 

You have completed two Senior or Ambassador Journeys OR earned the Girl Scout Silver Award and completed a Journey
 
Girl Scout Gold Award Steps


Investigate your issue thoroughly
 

Get help and build your team
 


Present your plan and gather feedback 
 


Check out the 2019 Gold Award Class!