Please contact Member Services at 1-800-692-7816 or memberservices@gshpa.org to book a property while we transition to a new system!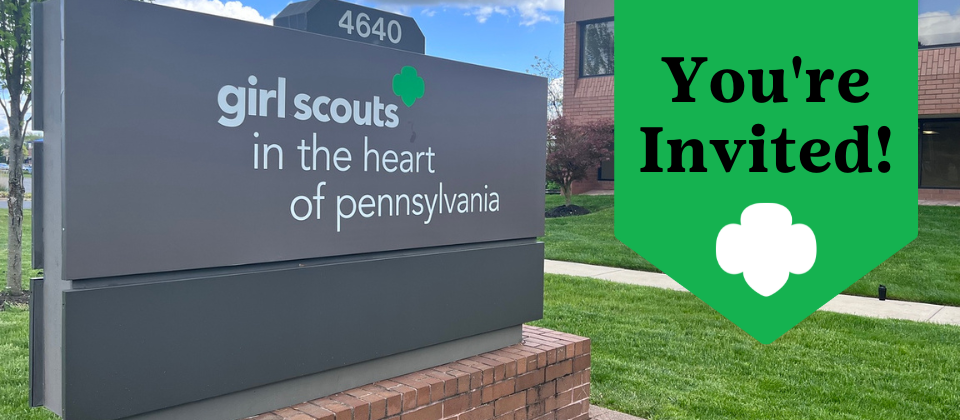 Vacation? More like stay-cation! See her travel her native state through GSHPA's new Camp Excursions!
Girl Scouts in the Heart of Pennsylvania (GSHPA) invites all Seniors and Ambassadors to attend our NEW, three-day long Camp Excursions for a weekend "away" in their very own home state!

Camp Excursions offer older girls the opportunity to explore unique areas and activities available right in Pennsylvania. While many girls have opportunities to travel with their families, schools, sports teams or places of worship, Girl Scout travel experiences provide girls freedom of exploration in an all-girl environment that help them foster travel competency. GSHPA Camp Excursions are girls' stepping stones to becoming future independent travelers – following the Girl Scout  travel progression model , girls will gain the confidence to adventure locally, domestically and even internationally!

Sign your girl up for her stay-cation at  Camp Happy Valley July 29-31 where she'll explore downtown  Gettysburg, visit a nearby  wildlife preserve, make a pit stop at Kings Gap State Park and participate in a  paranormal investigation with professional ghost hunters. We also encourage girls to sign up for an action-packed weekend at  Camp Small Valley Aug. 19-21 where they'll get up close and personal with animals at  Lake Tobias Wildlife Park, explore the cultural attractions of downtown  Harrisburg and experience the intersection of art and the outdoors at the  Ned Smith Center for Nature and Art.

Overcrowded beaches and expensive air fare? That's so last summer. An adventure-filled weekend with her best Girl Scout gal pals? She won't want to miss it.

Looking for more summer activity inspo? Check out our  list of top five outdoor activities girls can do with GSHPA this summer!
GSHPA Mission Moments
Fulton County girls lead the way as outdoor Trailblazers.
Dauphin County Cadettes give back to local humane society.
Cadette Girl Scouts from Troop 10734 in Dauphin County selected the Humane Society of Harrisburg Area as their "Give Back" charity. The girls shopped for donation items from the shelter's wish list and used their money management and decision-making skills to decide how much of their Cookie Season proceeds they wanted to use.
GSHPA GUIDANCE ON PARTICIPATION IN MARCHES
At Girl Scouts in the Heart of Pennsylvania, we support girls who choose to raise their voices on causes they support. We strive to help each girl tap into her leadership potential and use her voice to build a more just community. We respect the rights of each individual girl and adult member of our Movement to make their own decisions regarding participation in demonstrations, protests or marches in support of causes they care about.
Girls and troops may wear Girl Scout uniforms or t-shirts ONLY if participation is linked to a specific Take Action Project in pursuit of a Girl Scout Journey or Highest Award. This is to ensure individual personal opinions and actions are not interpreted as opinions and actions of our council as a whole. We encourage all members to be mindful of the possibility of violence and require parental permission for any girls or troops that want to participate in demonstrations, protests or marches.